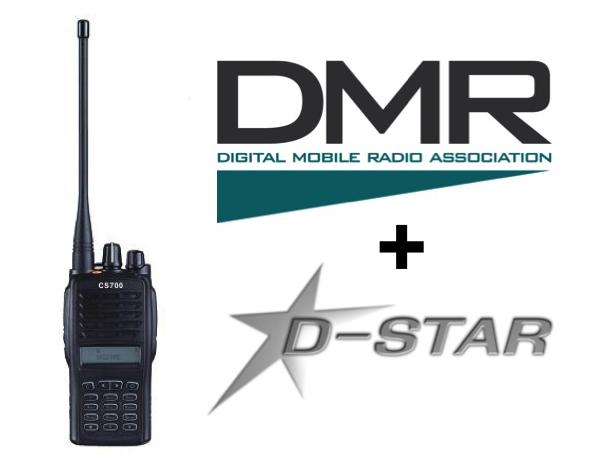 In an exclusive interview, Connect Systems owner and President Jerry Wanger discusses his company's plans to revolutionize ham radio with the launch of a new digital voice radio supporting both Digital Mobile Radio (DMR) and Digital Smart Technologies for Amateur Radio (D-STAR).
With the recent launch of the CS700 DMR radio, Connect Systems, the ham radio community's favourite auto patch maker, is revolutionizing the hobby by providing low cost, high value radio equipment that supports the latest in digital voice technology, including an upcoming unit that will support both DMR and D-STAR.
We were able to catch-up with Jerry Wanger, owner and President of Connect System, for an exclusive interview to understand his company's plans to take on the top ham radio equipment manufacturers by rolling out new options for hams interested in exploring the digital voice side of the hobby.
Q: What prompted Connect Systems to begin selling DMR radio equipment, such as the CS700?
Connect Systems has been in business since 1983 selling mostly Phone Patches to the amateur radio (ham radio) market and Phone Patches, Community Tone Panels, VoIP wide area controllers, and other things to the commercial market. About 10 years ago I went to a customer in Tennessee to solve a problem with our just introduced Wide Area Controller. This was a seventeen thousand system and after three separate trips we finally got it working perfect. On one of the trips we noticed they were selling 100 radios to the local police department. For just doing some special programming, they made a profit of over $20,000. I was thinking at that time I am in the wrong business. About four years ago we decided to introduce a line of inexpensive Logic Trunked Radio (LTR) radios. At that time, about the only people selling LTR radios were the Japanese and Motorola. We approached Kirisun to develop an LTR radio based on our firmware and their hardware. For the next three years, we were selling Kirisun radios under our name. A little over a year ago, we decided we needed an inexpensive radio that had excellent quality. Unfortunately, Kirisun was not able to meet both criteria. I then decided to work with COVALUE. The person who started COVALUE first worked at Hytera then he went to Kirisun where he worked with me on the LTR radio. Then he formed his own company. He had the perfect radio for me, which we labeled the CS100. This is a single band analog radio that is significantly better than the cheap Chinese radios you can get for $25. We sell this radio for $80. This radio is equivalent in quality to the high end Kenwood radios. At this time, I was informed that they would have available for me a digital radio close to the end of the year, so I ordered 100 of these radios. Being that we were not selling to the amateur radio market at this time, we gave the radios to a few dealers to try. One of the dealers happened to be an amateur radio operator (hams) and tried it on the DMR-MARC network and as amateur radio operators do, he bragged about how good his new toy was and how much it cost him. The rest is history. We have not been able to get enough radios to satisfy the demand. We have been contacted by hams all over the world for this radio and have sold them to Australia, Hong Kong, New Zealand, the Netherlands, Italy, and probably other countries indirectly.
Q: There are other modes of digital voice used by hams, such as D-STAR, which are well established within the ham radio community. Why did your company choose to get behind DMR instead?
As mentioned above we got into the amateur radio DMR market by accident. I was thinking of developing my own NXDN radio but I decided the cost to develop a completely new radio is too expensive. I estimated it would cost at least $500,000 to develop that format. A few weeks ago I spoke to a ham radio operator and he suggested that I look at developing a D-STAR compatible radio. I looked at the technology and decided it was feasible. We could salvage most of what we have in the CS700 and develop what I am now calling the CS7000. I hope to be selling a CS7000 in the next six months.
Q: Many hams likely remember the format war between VHS and Betamax videotape players in the 1980's, which ultimately saw VHS come out as the de facto standard. Do you feel that something similar is looming ahead for the ham radio community between D-STAR and DMR?
Both the D-STAR and DMR have their own advantages. The CS7000 will have the ability to use either format although the first firmware version will be D-STAR compatible. With a price of less than $250 (we do not know our manufacturing cost at this time so we cannot give firm prices), this radio is going to be a game changer not only in its price but for other things I rather not speak about now.
Q: In a market with low cost equipment manufacturers from China at one end of the spectrum and established ham radio equipment manufacturers, such as ICOM, Yaesu and Kenwood at the other, how do you see Connect Systems differentiating itself from its competitors?
Connect Systems has always been selling products as good or better than all its competitors but often at a much lower price. With no stockholders to worry about, we do not have to squeeze every last dollar out of our customers. Because of this reality, I can spend more on the hardware design and sell it for much less. We do not have high overhead to support because we mostly subcontract out projects on an as needed basis. We will never be able to sell a product as low as the Chinese because they are either being subsidized by their government or getting parts for making these radios at prices below what I can get them for. The Chinese have excellent manufacturing capability, however their only problem is that they believe price is more important than quality. They do not do all they can do at the design stage, sacrificing performance for cost. I could make a dual band DMR or D-STAR radio but I will be giving up a little performance. I could also make a less expensive DMR radio but then I am giving up performance. Maybe next year I will tackle a multi-band radio.
Q: With respect to digital voice technology, what else can the ham radio community expect to see from Connect Systems over the next 12 months?
The CS7000 is going to be such an advance in the technology and price compared to what is available now that I expect it to totally devastate ICOM's amateur radio market. For reasons of culture, neither the Chinese nor Japanese would ever consider the architecture I am working on. While I will not discuss at this time why it is going to be such an advance over the existing products, I could tell you that this radio will have certain features that will make it easy to use if you are blind and will have the ability to have a quantum leap in the number of channels you can program. I hope to show a prototype at the 2014 Dayton Hamvention.